8 - Family in Nagoya and Kyoto
I left I-House early on Friday morning to get to Nagoya, from where we would catch the shinkansen to Kyoto. A little too early perhaps, I forgot my camera! I don't mind so much, I can fairly easily store the memories, but it will mean for this post I use photos from the 'net for illustrative purposes, you understand.
The shinkansen takes forty minutes to make its way from Nagoya to Kyoto, and we headed for our next hostel. It turned out to be a little further than we'd thought, but it was never a problem on successive journeys to and from the station when we didn't have suitcases to drag around.
After we'd checked into traditional-style Ryokan Ohto, we went for a walk in Gion, the Geisha district. It's closer to the city centre than I'd ever realised, having always taken the bus or train there, and we proved that the only way to explore a new place has to be on foot. As is the custom, we did a lot of shopping in Gion!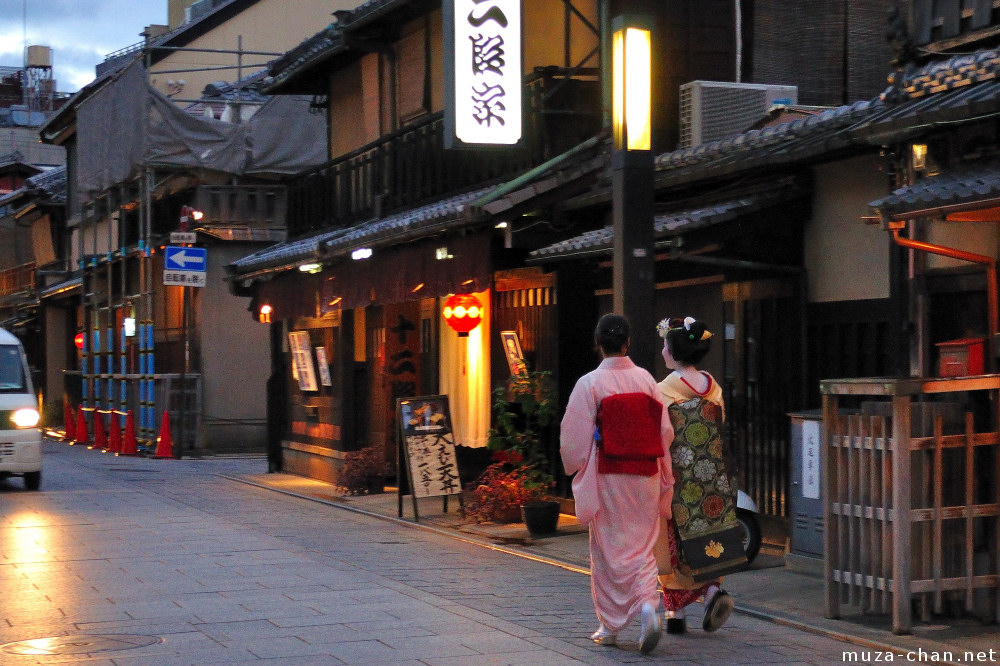 On Saturday we took the tourist route with our hop-on-hop-off bus passes. We started with Kinkaku-Ji, the most photographed landmark in all of Japan, with good reason:
Kinkaku-Ji
Together with Nijo Castle, and a few other sight-seeing locations, this was my fourth visit to the spot. However, this in no way negatively affected my experience. I had a lot I could tell my family, and I was still noticing new things.
Nijo Castle
It was wonderful to go somewhere new to me also, though. Nishiki Market is a hugely tall covered walkway with a roof of patterned stained glass, with infinite stalls to look at as you and a hundred other Japanese and foreigners alike make your way down the narrow path. There was a lot of food on sale, both ingredients and stalls for take-away skewers, as well as the normal tourist purchases, clothing, and necessities for Japanese life. For dinner that night we went for a Japanese 'curry', which contains absolutely no spice whatsoever; perfect for myself and the little sister.
We had a tough time deciding where to go for our last day in Kyoto, but as the weather was going to be beautiful, decided on Arashiyama. Named for the mountain it lies at the foot of, Arashiyama is an area famous for its bamboo groves. We alighted first at Tenryu-Ji Temple, a World Cultural Heritage Site with beautiful gardens, leading directly into the bamboo.
Tenryu-Ji
Thus we ventured forth into Bamboo Avenue for the incomparable experience of walking down a path lined with shoots upon shoots of bamboo which I'd judge to be about 25 feet tall. My day was made when we came across a postcard artist who'd sold me postcards back in 2008, and was still in the exact same spot. He was so delighted when I explained (in Japanese) who I was that he pulled me into a hug; something hitherto I've not experienced in Japan.
After that it was time for us to make our long way back to the hotel so I could pack up my things and return to the station. I bade farewell to Mum and Claire, as they would have one last night in Kyoto, go to Tokyo and stay one night there, and then fly on Tuesday morning.
I've never known anything like showing my family round Japan. Sharing something I know so well which is almost unknown to them, is strange and beautiful and stressful and heart-warming. Their visit here will be another of my favourite memories upon leaving Japan, and I know they've enjoyed themselves, too.
This week is a return to normality for me; catching up on work, going on a hike, all normal Japanesey-type things. We're crossing the half-way mark too at this point, strange... It has gone quickly, but with the amount of work I'll have to do it's not like the second half will slip by without me noticing.
Thanks for reading thus far, it does mean a lot to me :)
Yours,
Abby